FRANÇOIS LECOULTRE - A GUIDE TO COMPLICATED WATCHES
A fourth edition that offers some important improvements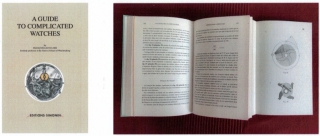 In order to make the book easier to read and use,
all the plates containing drawings have been moved to the end of the book.
The figures are clearly referred to in the text and the technical details and functions
of the various mechanisms can be consulted on the numbered, fold-out plates.
This same improvement already exist in the last French version
(as shown in the picture above)
and has been enthusiastically acclaimed.
Additionally, we entrusted the revision of the chapter on equation watches to
Dr. Ilan Vardi, senior scientist
at the Ecole Polytechnique Fédérale de Lausanne (EPFL), STI IMT INSTANT-LAB.
The original text by François Lecoultre
now offers precise indications on the equation of time
and explains all sources of confusion regarding this subject.
This reference book, first published in 1949, has regularly been re-printed.
Watchmakers all over the world all agree that it helps them to solve the problems
they meet on an everyday basis.
Of course it is also a must for students
as well as watch-lovers who enjoy the new knowledge they are able to acquire.
Last but not least, this book is our landmark.
Everything started with it when Editions-Simonin was created in 1984 !
.
Today, the book is available in French, English and German.
English 4th edition - Book No 2777 - CHF 75.- plus postage.